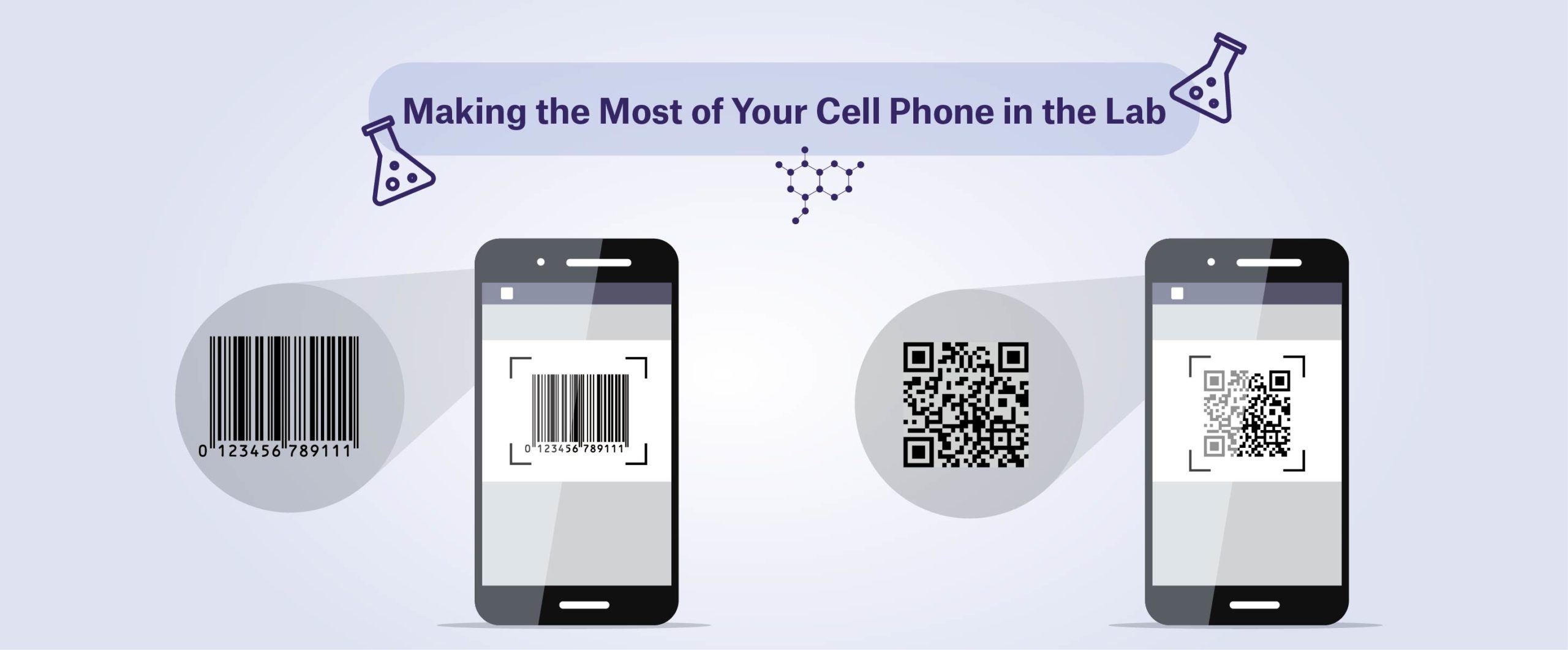 These days, everyone is glued to their phone; social media, Google, Reddit, daily news headlines—it's all there, inside your pocket. Unfortunately, unwanted distractions at work can be detrimental to workflow, productivity, and even safety. So, instead of burying your head in your phone, make the most of it by using it for something practical. Loaded with the right software, your phone could be an integral piece of hardware in your company's manufacturing workflow, no matter what industry you work in.
Reading, generating, & printing barcodes
One of the best ways to integrate your cell phone into your workflow is using it as hardware for item identification, namely reading barcodes. For this to work, you'll need an app with broad barcode scanning functionality, like NeoReader QR & Barcode Scanner. With these apps, you can scan different types of both 1D and 2D barcodes, so you're not limited in what you can print. Once the settings on the app are correctly adjusted, you can use your phone's camera to scan barcodes as needed.
Using phones can also save money due to the low cost and the flexibility to troubleshoot with different barcode types and apps. Depending on the need, a barcode scanner might become necessary, though. For instance, a phone may be handy for scanning inventory, including racks, trays, and large items where the flexibility of a phone can be used to get around tight corners or irregular spaces. The key here is that it is handheld and small. Phones can even scan select items at the cash, just as they can be used as credit card readers. However, it would be inadvisable to use a phone for retail grocery stores, where dedicated stationary scanners make it easier to read thousands of items daily.
For personnel using their phones as scanners, you'll want to buy heavy-duty phone cases, as there will likely be at least one or two occasions when someone drops their phone. Some cases even come with a handheld strap, which can help prevent drops.
Not only can you read barcodes with your phone, but you can also generate both 1D and 2D barcodes, including QR codes, with any number of apps on Android or Apple. To print barcodes, some printer manufacturers provide specific apps to print directly from your phone. An example of this is Zebra's Print Station app, which you can pair with your printer via Bluetooth, use document templates to generate on-screen prompts, and retrieve and display templates, all on your phone.
Reading & encoding passive RFID tags
Radio-frequency identification (RFID) has been around for a while now but is still considered a new technology in the workplace. An RFID system consists of a reader and transponder that can send out longwave signals. With these systems, multiple tags can be read simultaneously, without the need for a direct line of sight, allowing batches of products to be scanned at once. One of the best things about RFID chips is that they're rewritable, which means you can re-encode them and use them repeatedly.
Your phone can also download from a long list of apps in order to be used as an RFID reader. However, there are a few hurdles to cross if you want to use this approach. For instance, your phone must be near-field communications (NFC)-enabled, though nearly all of today's phones have this capability. While NFC is a type of passive RFID technology, the scanner must be relatively close to the tag to read this specific type of signal. As such, you'll never be able to take full advantage of the long-range scanning that comes with most advanced RFID systems. You'll also need a dedicated scanner if you wish to utilize active RFID technology.
Most phone users are aware of the NFC capabilities of their phones, using them to tap and pay very much like chip-enabled credit cards at the retail store. However, most are likely unaware that, with the right app, one can encode onto NFC chips with custom information. One of the best programs is NFC Tagwriter, an app by NXP that's free, available on both Android and Apple phones, and programmed by a company that also manufactures NFC chips.
With NFC, as well as other RFID-based systems, it's now possible to insert the inlays into a variety of durable label constructs. This provides a wide range of identification options that can withstand various environments, as any type of label or tag can be outfitted with a chip, including nearly all types of chemical-resistant, heat-resistant, and low temperature labels. Therefore, any label can be equipped with NFC technology, which can then be scanned and rewritten using your phone as many times as you want. This includes labels for items that depend on weather resistance, such as car parts, tires, and construction materials. Using your phone at the construction site to both encode and scan weather-resistant NFC labels is something that's now possible with today's technology.
Communication with LIMS & other cloud-based lab systems
One of the most essential facets of cellphone technology is communicating with and monitoring processes from a distance. This is especially true today, as COVID-19 has made work more unpredictable. In an emergency, it's possible that all personnel in contact with a COVID-19-positive individual will have to isolate at home, leaving all stock and equipment unattended for long periods. Fortunately, many inventory and workflow systems are now cloud-based. Having software that's accessible through your cell phone or tablet makes managing inventory and workflow possible no matter where you are, either at home or even away on vacation.
Your phone doesn't have to be something that gets locked away once you go to work, nor does it have to be an unfortunate distraction. Your phone can serve as an integral part of your workflow, depending on the need, comfort level, and capability. It can be used as equipment to scan items, generate new barcode identifiers, or even as a hub to manage inventory and workflow. Above all, it's vital that the decision to utilize it as a tool is based on the need to improve efficiency and productivity and that alternatives are considered otherwise.