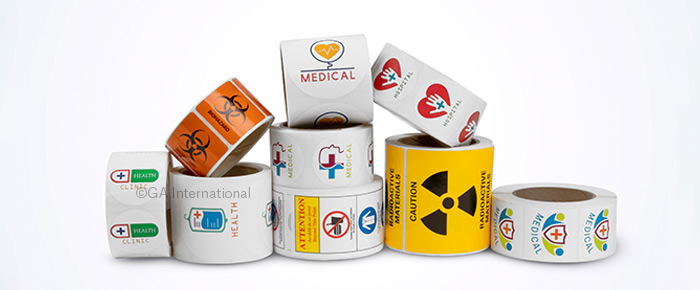 Pre-printed custom label manufacturing is a specialty that not all manufacturers can do efficiently or accurately. With costs at an all-time high due to a host of global factors, it's imperative companies devise new strategies to cut costs and save time. One tactic that can be implemented, regardless of whether you work in the automotive, oil and gas, construction, or electronic sector, is outsourcing label printing.
Mitigating COVID-19 supply chain disruptions
Since early 2020, the COVID-19 pandemic has wrecked global supply chains. With the rise of the Omicron variant and potentially others to follow, periods of dysfunction are to be expected for the foreseeable future. For large manufacturing facilities, this means the loss of personnel, further squeezing those who aren't infected into performing more tasks to maintain output but with a higher risk for error.
Label printing represents a simple yet essential task that can be outsourced to keep the work rate high during COVID-related work stoppages. In partnership with a company specializing in identification solutions, the entire identification solution can be designed, manufactured, pre-printed, and graded. This is especially advantageous for retail companies who ship large volumes of high-priced stock, as it reduces the burden of overworked employees to perform the tedious task of printing labels and ensures there are no printing errors. In addition, as labels are not printed in-house, printers no longer need to be maintained, and time does not need to be spent replacing label rolls/sheets or ink ribbons/cartridges.
Adaptive label design and customization
Speaking of specialized identification solutions, any company involved in pre-printing labels must understand their role in your workflow. Understanding the customer's workflow allows the formulation of a personalized solution tailored to the process and not the other way around. Therefore, any label manufacturer should be capable of designing an appropriate label for every type of item and environmental condition, including extreme temperatures, abrasion, and chemical exposure.
Radio-frequency identification (RFID) is another type of identification technology that manufacturers should be able to customize. Though RFID tags are a relatively old invention, recent upgrades to RFID technology have accelerated its integration into areas that were once considered impossible. In other words, nearly any label can be manufactured with an RFID inlay, including chemical-resistant and heat-resistant labels, among others.
Variable data printing
Pre-printed custom labels can also be provided with serialized data or variable information printed from a database. This offers a hands-off approach to labeling that helps companies and manufacturing facilities run their operations more efficiently. The database or spreadsheet can be provided to the label manufacturer with guidelines for printing. For applications that will require a more durable solution, laminated variable data printing is also an option, providing durable labels that can withstand a range of extreme temperatures, UV light exposure, prolonged chemical exposure, heavy-duty cleaning and lubrication processes, as well as scratching, friction, or abrasion caused by heavy use. These laminated variable data labels are particularly ideal for identifying electric components and electronic equipment that need a unique identifier for asset tracking or maintenance while protecting the printed information and barcodes underneath.
Barcode grading
If using barcodes to track and trace inventory and/or equipment, tools, or other items, it's important they are accurately and consistently read. Poor reading accuracy can easily lead to identification errors, lost goods, and time wasted retracing the identity of specific items.
Barcode grading (also called barcode verification), performed with a TruCheck Omni™ or other grading system, tests a variety of characteristics related to the quality of the barcode and provides a grading report, with validation given to only those barcodes that achieve a sufficiently high overall score. This yields assurance that the labels will be consistently and accurately read when the time comes. Barcode verification is crucial for several industries, such as aerospace and military manufacturing, as they may require specific industry barcode standards.