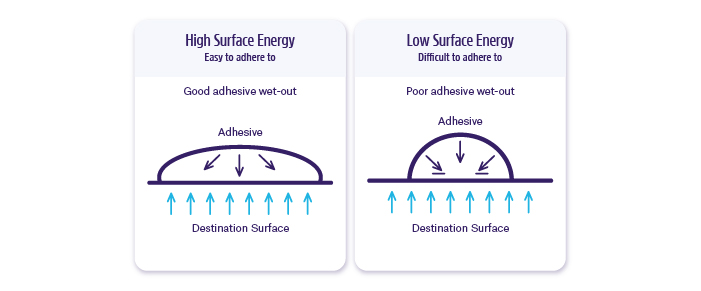 Why are specialty labels needed for specific surfaces? The answer to this question is rooted in the science of surface energy, a concept initially discovered in the early 1900s by Agnes Pockels in Germany. Since then, a lot of work has been done to explain how surface energy works and to devise ways of working with it to optimize label performance for all sorts of industries, from the automotive sector to aerospace and construction.
What is surface energy?
In its purest form, surface energy can be described as the work per unit area done by the force that creates a new surface. As it relates to labels, surface energy is the degree to which the adhesive and the material's surface repel or attract each other. Without context, the idea could seem very abstract. However, the basic principle of surface energy is that it explains the energy of intermolecular forces used to strengthen the adhesion of one substance with another. The most common example uses water placed on a flat surface made of metal or plastic. A material with high surface tension interacts strongly with the water, making it stick to the surface, whereas one with low surface energy would repel the water. This would mean the water would interact with itself more than the material, causing it to bead and fall away. This is typical of what happens when special coatings are applied to a windshield, making it easier to wipe, or when wax is applied to a surface and water cannot stick anymore.
How does surface energy affect label performance?
Surface energy is crucial to understanding whether you need specialized labels. Certain adhesives share properties that make them well-suited for either high or low-energy materials. A material with a surface energy higher than that of the adhesive is ideal. Conversely, low-energy plastics are probably the most challenging type of material to label. These low-density plastics are often soft, have a low melting point, and efficiently repel water. Other materials with relatively low surface energies are wood, cement, and fabric, especially compared with materials like metal, ceramic, glass, and porcelain, which have high surface energies. Some common materials that are notoriously difficult to label are Teflon (they don't call them "non-stick" pans for nothing), silicone tubing, and wax. Interior plastic car surfaces are also difficult to adhere to because of their stain-repellent coating.
So which labels should be used?
One quick way to determine what kind of label is required is to perform the water test. Pouring water on the surface to be labeled is a quick and easy way to test its surface energy. Once the water has been applied to the surface of the material, notice how it reacts. If it pools, this means the water is more attracted to the surface than itself, indicating a high surface energy. If it beads or drips, then the material has low surface tension.
When choosing labels, it's necessary to work with a manufacturer that understands the chemistry and physics of adhesives. By assessing your specific needs, specialty labels can be chosen based on the types of materials and conditions you work with, whether you need to identify low-surface energy construction materials and plastics (including electrical wire coatings) or car interiors, such as warning signs for airbags or car seating labels. IndustriTAG has developed special adhesives with optimized thicknesses that significantly improve the ability of labels to stick to these hard-to-label surfaces. Each label is coated with an adhesive that is ideal for specific materials, like plastics, metal, or even those that are exposed to harsh chemicals, acids and bases, or extreme temperatures. That way, a tailored solution can be developed based on the specific needs of your business, with samples provided so that the solution can be tested and refined as needed.