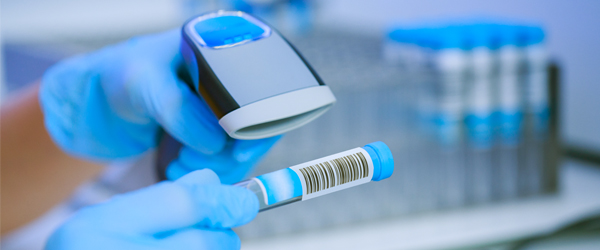 Many industries, including the automotive, agriculture, oil and gas, aerospace, and construction sectors, rely on barcodes for tracking their equipment, inventory, parts, and consumables. To do this, information from the barcodes needs to be read by a scanner. Here, we'll show you how barcode scanners transmit this information from barcodes to a database.
The Basics
To illustrate how barcode scanners transmit data, we'll take a look at 1D Universal Product Code (UPC) barcodes. Each UPC barcode is split into 95 segments (also called modules), with an intermittent pattern of black and white columns. The laser emitted from a scanner on the barcode is either reflected back (white modules) to the scanner's photoelectric cells or absorbed (dark modules). The cells then generate off-on pulses based on the pattern of reflection, which register as 0s and 1s as they're transmitted to the computer. The patterns are then used to generate a number, which can represent various information regarding the product, including its identity, the company that made it, and even its country of origin.
Scanner Options
Many different scanners are available, each with its own specific features.
Pen-type scanners – These use a light source and a photodiode housed in a pen or wand. As light is applied to the barcode, the photodiode determines the intensity of each bar reflected back at it.
Laser scanners – Similar to pen-type scanners, these use a laser and a reciprocating mirror or rotating prism to guide the laser across the barcode.
Charge-coupled device (CCD) scanners – The head of a CCD scanner consists of hundreds of tiny sensors placed horizontally across it. These sensors measure the intensity of ambient light that's reflected from the barcode. They're also sometimes referred to as LED scanners.
Camera-based scanners – These scanners are typically used to read 2D barcodes. Utilizing a camera, they capture an image of the barcode and decode it using digital imaging software. This method of scanning can also be accomplished using your smartphone, with your phone's built-in camera used to take a photo of the barcode and an app used to decode it.
Omni-directional scanners – These barcode scanners emit laser scanning lines in multiple orientations using a rotating polygonal mirror and several fixed mirrors, to generate complex patterns across the entire barcode at different angles. Omni-directional scanners are typically found in supermarkets and can read damaged, wrinkled, or badly printed barcodes. 
Other Features
Barcode scanners also have many different types of packaging and additional features. There are handheld scanners that require you to press a button to shine light on your barcodes, in addition to stationary scanners that are handy when you need to consecutively scan numerous individual items. Handheld scanners can either send data to the computer's database immediately as the barcode is read (online) or store the barcodes' information, requiring you to download it separately to the computer (offline). Wireless handheld scanners are also available, for added flexibility when scanning. Large manufacturing companies often use fixed-position scanners to read barcodes from items that pass through on conveyor tracks (e.g. for weighing, shipping, and routing). It's worth keeping in mind that not every scanner can read both 1D and 2D barcodes, as many are designed to read only one of the two.
Barcodes have come a long way since being introduced in the 1950s. They're used in nearly every industry now, from retail, automotive, and construction to aerospace, drilling, and the agriculture sectors. Employing the right barcode scanning system along with verified barcodes that are up to par with industry standards is crucial for accurately tracking nearly every aspect of your business. Whether it's for bricks, tires, chemical drums, or even just wires and cables, using appropriate barcoding technology helps you track and trace parts as they're manufactured and assembled as well as monitor inventory, keeping your business running smoothly and efficiently.