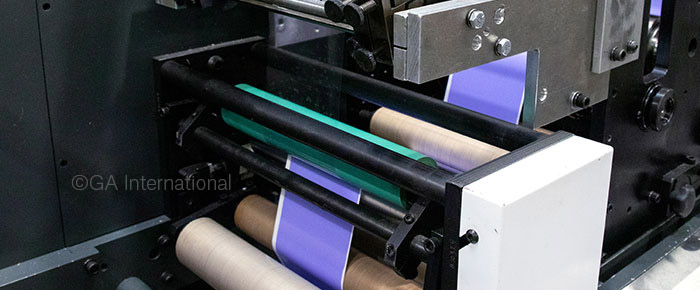 Printing technology continues to develop and advance, with new printing methods developed to serve specific applications and needs. In turn, each type of printing method is ideally suited to a different situation, allowing you to choose the printing technique that best highlights your products or services.
Offset Lithography
Also termed offset printing or simply litho. Offset lithography is a popular technique for large-scale printing jobs that requires the use of aluminum printing plates. Each plate holds an image of the content that needs to be printed. When inking the plate, only the part containing the image retains the ink, which is then transferred (offset) onto rollers before going onto the print media. The plate and the printing media should never come into direct contact, which also extends the life of the printing plates. The print media can be any type of paper, or rough surface, including cardboard, canvas, or cloth, as long as the surface is flat.
Offset lithography can be used for both small and high-volume jobs. However, it's not the most cost-effective for small jobs due to the time and cost of setup. It can produce high-quality images and is most widely used for printing books, newspapers, and various stationery.
Flexography
Flexography, often abbreviated to just flexo, is designed for printing on uneven surfaces. In contrast to lithographic printing, the content to be printed is applied on a flexible rubber printing plate. This flexible plate is then inked with quick-drying, semi-liquid inks, and the inked image is subsequently transferred directly to the printing surface, not requiring any intermediary roller. 
The high print speed provided by flexographic printing makes it perfect for longer runs and large print jobs. In addition, it can print on a huge range of print media, such as a variety of plastics, cellophane, as well as metallic film. Flexo is primarily used for printing on packaging materials and is commonly used to produce high-quality labels for everything from plastic bags, juice cartons, and disposable cups to wrappers for chocolate bars.
Digital Printing
Digital printing is a relatively more modern printing method and includes the largest assortment of techniques when compared to other printing methods. Digital printing comprises inkjet, laser, and thermal printing techniques, which can be further subdivided into direct thermal, thermal-transfer, and inkjet roll/sheet printing. Digital printing works by sending images directly to the designated printer using entirely digital files, eliminating the need for a printing plate.
Digital printing techniques provide quick turn-around times and the ability to print on-demand, making them the ideal choice for small-run jobs. This also allows printing to be handled in-house, providing greater control over the printing process. As such, digital printing helps reduce costs and save time while still producing high-quality prints similar to that offered by bigger-scale options. Furthermore, each digital printing technique has its own distinct benefits, with inkjet producing photo-quality color images, direct thermal being the most cost-effective (as it does not require any additional ink sources to print), and thermal-transfer producing the most durable printout that can withstand extreme temperatures, including high heat and cryogenic conditions, exposure to chemicals and solvents, and scratching or abrasion.
Rotogravure
Rotogravure printing, also known as gravure, is a long-run, high-speed, high-quality printing method that produces fine, detailed images. This printing technique involves engraving the image onto an inked copper cylinder, allowing the image to be subsequently transferred to paper. In contrast to lithographic and flexographic printers, the ink in gravure printing is transferred from carved microcavities, which form the printing pattern, and not from a fixed plate.
The fastest and widest presses currently in operation, gravure presses, can print everything from narrow labels to 12-foot-wide rolls of vinyl flooring. Perfect for high-volume printing, rotogravure image carriers tend to be more expensive than flexography plates, making the number of prints required to be economically viable much higher. Typically used to print large volumes of magazines and catalogs, it can also be used to print the text on candies and pills.
Screen Printing
Screen printing relies on a woven piece of fabric, or "screen", which is a fine material or mesh, that is stretched out, creating a screen. Ink is pressed against it to successfully print the image onto another material. Primarily used to transfer graphics or logos onto clothes or fabrics, it can also be used on paper, glass, ceramics, wood, and metal, as the receiving surface does not need to be flat as in other printing methods
This method requires considerable setup, and thus requires a larger print order to keep it cost-effective. Ideally, it should be used to repeatedly print items in bulk, where the same image or logo needs to be repetitively transferred to a shirt or other material.
LED UV
UV printing is considered a form of digital printing that uses ultraviolet (UV) light to cure or dry UV ink as soon as it is applied to a surface like paper, plastic, foil, acrylic, or foam. As the UV ink is distributed across the printing surface, it is dried using UV light, causing it to adhere. This causes the ink to dry almost immediately, preventing it from evaporating or spreading irregularly. In addition to saving time and creating sharper/clearer colors, this method has the added benefit of not producing volatile organic compounds (VOCs), ozone, or other toxic fumes. This may be of particular interest to eco-friendly facilities as well as warehouses that utilize sterile environments.
Light-emitting diode (LED) lights can also be used to dry UV ink. LEDs are becoming a popular option for UV printing, as they use less power, and unlike other methods, LED UV printing is not limited to the type of printing material used. Moreover, UV LED lighting offers enhanced longevity, greater reliability, and smaller sizes than traditional UV lighting systems that rely on mercury lamps as a light source.
Regardless of your printing needs, IndustriTAG can help guide your choice of printing options while also providing a variety of printing services and high-quality materials to ensure the success of any print job. Contact our experienced technical support team for help on your project.