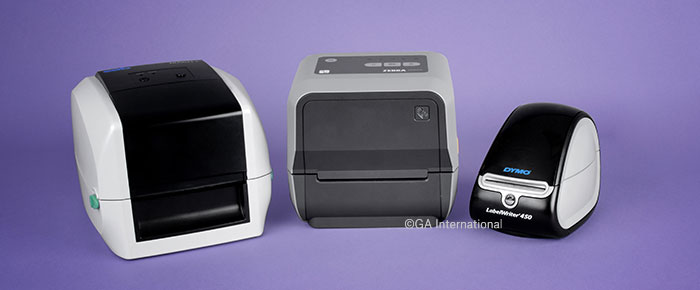 Prior to choosing a label, it's important to assess what method of printing best suits your company. There are two main types of printing methods for labels: thermal and digital printing. Digital printers, including inkjet and laser, use either ink or toner cartridges to print labels, whereas thermal printers rely on heat to generate high-quality printouts. Below, we'll discuss some of the pros and cons of each method.
Thermal Printers
Thermal printers employ heat to yield sharp printouts on labels. They use rolls of labels, which improves efficiency as you can print the exact number of labels needed without creating waste. These printers are an excellent choice for printing barcodes or serialized information, such as alphanumeric text. However, these printers can usually only print in black and white, not color. There are two kinds of thermal printers:
Thermal-Transfer – Thermal-transfer printers use ribbons made of either wax, resin, or a combination of the two. The printhead heats the ribbon, which interfaces with the label to produce a clear, sharp printout. These types of printers are at their best when printing barcodes or serialized information on small labels. When applied with a pure resin ribbon, they're also handy when your thermal transfer labels require resistance to harsh chemicals and solvents as well as extreme temperatures and abrasion. Furthermore, because these printers rely on relatively low heat settings, they are compatible with a wide range of facestock and adhesive options (e.g., plastic, polyester, and paper).
Direct Thermal – Direct thermal printers rely on a heated printhead that directly contacts labels coated with a special dye that changes color when exposed to heat. Because of the small size and relatively cheap cost (no ink or ribbon required), this printing method is great for general office use. However, printouts generated this way are prone to fade over time and blacken when exposed to high temperatures or harsh chemicals.
DYMO – DYMO printers are a particular Brand of direct thermal printers, that are designed to work exclusively with DYMO-compatible labels. DYMO printers are a cost-effective and lightweight option that is fairly popular with many business.
Digital Printers
Digital printing requires ink or toner cartridges to generate printouts. Microsoft Word templates can be employed to format data or add color logos or other graphics to the label when using a digital printer. These printers use sheets of labels, often resulting in paper jams when the same sheet is passed for a second time through the printer. Both laser and inkjet printers are examples of digital printers.
Inkjet – Though they can produce photo-quality images, inkjet printers rely on expensive ink cartridges that can often result in smeared or smudged printouts. However, once dried, inkjet labels can resist some short-term chemical exposure, including wiping with alcohol.
Laser – Laser printers provide much more stability than inkjet, as their printouts are less likely to smudge or fade and are also waterproof. They are compatible with more types of labeling materials, making them more versatile as well. However, laser labels are likely to smudge or rub off when exposed to harsh chemicals.
Overall, thermal-transfer printers are ideal for printing barcodes, serialized information, and other custom data. They're extremely versatile and represent the best choice for harsh industrial environments, whether your labels are exposed to chemicals, oils, extreme temperatures, or abrasion. For general office use, direct thermal printers are a cost-effective option, with printers that are take up relatively little space. If your labels need color graphics or logos, you're better off using a digital printing method. Laser printers are recommended when you require durable printouts, while inkjet printers produce better graphics and provide more resistance against harsh environments.
For more information, you can download our Printer Buying Guide, which can help you select the brand and model that's best suited to your company's needs.