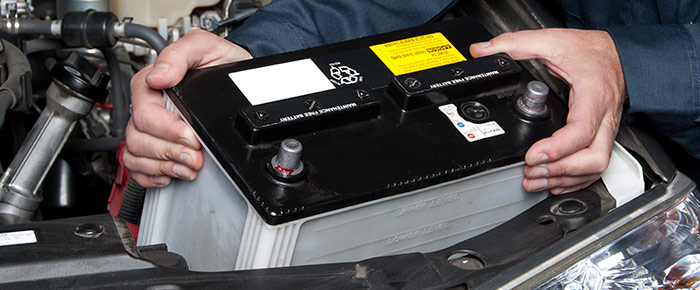 Batteries are an essential component of all vehicles, whether they're gas-powered or electric. Because of the wide variety of car batteries, they must be accurately identified with all necessary information. With a proper car battery label, customers can easily select the battery model that will work with their car, inventories can be managed efficiently, and recycling plants can identify the battery's characteristics once it reaches the end of its lifecycle.
The characteristics of a good car battery label
Car battery labels are some of the most heavy duty labels available. The adhesive and the facestock of the label need to be weather-resistant since batteries can encounter extremely high temperatures, like when the battery overheats, as well as the freezing temperatures of winter. These labels also need to resist corrosion from the hot acid and oils used to manufacture them. Labels that resist exposure to a wide pH range are suggested, including concentrated acids and bases. They should have a strong adhesive that will not peel or flag when exposed to the hot acids or oils commonly encountered during use. Ideally, the material should also be electrically non-conductive and flame-retardant without releasing toxic gasses if the car happens to catch fire during an accident. In addition, batteries that are "spillable", where the sulfuric acid and water mixture inside the battery can leak out, should be marked as such to prevent chemical burns, whereas non-spillable batteries should also be identified with a safety indicator.
Recycling is another factor to consider, as the label will need to be blocked out with a new label if the battery casing is recycled. This is especially important for the electric car industry, as battery recycling is necessary to maintain the sustainability of these vehicles. If your company stores spent batteries prior to shipping to a recycler, it's advised that they be marked with a "used batteries" label to prevent the batteries from being reused, which can result in equipment failure. Lithium-Ion batteries require additional labeling due to their propensity to self-ignite and should include a label with the message, "If the package is damaged, batteries must be quarantined and inspected."
It is strongly recommended that all car battery labels are thermal-transfer printable. This type of printing method provides the strongest resistance to chemicals, including acids, oils, alcohols, and abrasion, all of which is necessary to preserve the printout in harsh conditions. Thermal-transfer printouts are also weather-resistant, so neither heat, cold, or moisture can ruin them.
Overall, we recommend AcidiTAG™ labels for identifying car batteries, as these labels are thermal-transfer printable and designed to resist exposure to substances within a wide pH range, including strong acids and bases. They also withstand temperatures as low as -30°C (-22°F) and as high as 100°C (212°F).
The information printed on the label
The information printed on car battery labels must conform to the SAE and Battery Council International (BCI) standards. The specs highlighted on car battery labels include:
Voltage: The standard voltage of a car battery is 12.7 V.
Cold crank amps (CCA): A measure of the battery's ability to start the engine under low-temperature conditions, where the chemical reaction inside the battery slows down. CCA is often used to compare battery performance in cold climates.
Cranking amps (CA): A measurement of the battery's cranking ability at 0°C (32°F). The BCI states that the CA must also be listed with the CCA.
Reserve capacity (RA): The number of minutes a battery can be discharged at 25 amps. The higher the RC, the better; the discharge rate can be greater than 25 amps on many newer car models.
Amp-hours (AH): The amount of energy the battery can deliver continuously for 20 hours.
Deep cycle: A test of whether the battery can stand up to repeated discharge/recharge cycles. It provides the best overall gauge of battery performance under strenuous conditions. This information is usually only found on batteries designed for "deep cycle" service, like race cars.
Date code: A code that indicates when the battery was purchased. This can be a simple date sticker or an alphanumeric code, with the first two characters representing the manufacturing date. The first character is a number from zero through nine corresponding to the last digit in the year the battery was manufactured. The second character is a letter that refers to the month the battery was made. The letters A through L directly correspond to January through December. The two characters may be interchanged.
Group size: A standardized classification that indicates the battery's physical envelope and terminal position. However, European, American, and Asian manufacturers often set their own standards regarding labeling group size.
Tracking large shipments of car batteries
For manufacturers and retailers, quickly and accurately tracking battery shipments is a crucial step in the supply chain. We recommend using either 2D barcodes (printed with a thermal-transfer printer) or radio-frequency identification (RFID). Each has its own pros and cons, though, with our ability to provide RFID inlays embedded into nearly any label type, batteries can be labeled with RFID chips, and have barcodes printed on the facestock of the labels as well. This provides the best of both worlds, and if one method fails, the other can serve as a backup to identify the item. Altogether, having a stringent identification system in place reduces errors and saves time with the proper software and accessories (like RFID and/or barcode scanners).
Choosing the right label
Ultimately, choosing the right label car part label boils down to the type of battery being manufactured and the label size required for the casing. Partnering with a label manufacturer who tests their labels in-house and provides samples as well, so you can test them on your product, is ideal as you know you'll be getting the perfect label. Custom printing at a label manufacturer like IndustriTAG is another key factor that might help provide your company with exactly what you need, or they can set you up with a full identification solution, from labels to printing hardware software. This way, they can tailor the entire solution to your company, maximizing workflow and ultimately increasing productivity and profits.