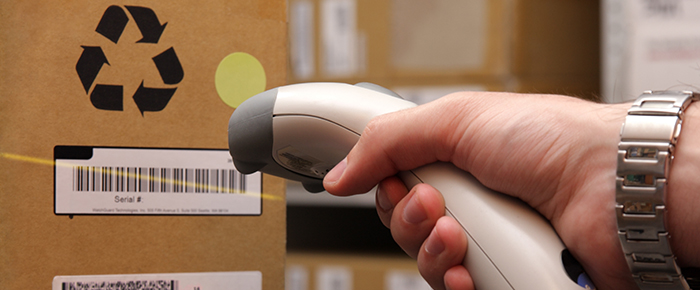 Barcodes are extremely important, whether you're running an automotive manufacturing plant, a farm, or working at a construction site. They're necessary to track and trace inventory, manage imported and exported items, and follow parts as they're manufactured and assembled. But what do you do when you have barcodes that won't scan? We've compiled a few solutions below that will help you fix these pesky faulty barcodes.
Improper
label placement
Poor label placement is the easiest error to catch. If the barcode is scrunched up or wrapped around itself, there's no way the scanner can possibly read it.
Solution: Avoiding improper label placement is solved by planning ahead. When choosing barcode labels, be sure to identify the correct size, shape, and placement before integrating them into your workflow.
Improper barcode/scanner position
Often, failure to read barcodes can be caused by the position of the barcode or scanner:
The scanner could be too close or too far to read the barcode.
The angle of the barcode relative to the scanner might cause a failed reading.
The scanner may require a specific barcode orientation to read it. For instance, lasers used in some barcode scanners need to be perpendicular to the barcode's white and black lines for it to read them properly.
Solution: Some readers come with a built-in autofocus, which lets you adjust to the distance, angle, and orientation of your barcode. Replacing scanners with barcode imagers makes also reduces the likelihood of a failed read due to laser interference and mean that the barcode can be read usually in any orientation. If you must use a scanner, a right-angle mirror can reflect light from the barcode to it, though you'll need a scanner that reads flipped images to do this.
Damaged
barcodes
When barcodes are exposed to harsh conditions, they can become damaged due to fading, smudging, or abrasion, making them unreadable.
Solution: To avoid this problem, you should choose appropriate labels along with a damage-resistant printing method. Thermal-transfer printouts offer the most resistance against harsh conditions, including extreme temperatures, chemical exposure, and physical damage. High-performance readers are also recommended when damage is unavoidable, as they can reconstruct the barcode from any scan lines that remain intact. Adding a varnish or laminate to your labels can also help protect the barcodes.
Contrast is too low
Contrast between the light and dark features of the barcode is needed for the scanner to properly read it. Certain materials may provide better contrast between the elements of the barcode; for example, barcodes printed on thermoplastic film labels typically provide higher contrast compared with printing them on metal. You might also run into contrast problems if the bars of the barcode are uneven, either due to poor printing or an uneven surface.
Solution: To add the right amount of contrast to your barcodes, you can adjust your printer settings, so the ink distributes uniformly over the label. However, it's typically the surface you're printing on that's the main problem, which can be dealt with by enhancing the brightness/contrast of the barcode. Some scanners can provide features that employ diffused lighting (for glossy, flat surfaces) or dark-field lighting (for embossed or engraved barcodes) to further limit the effect of contrast on the ability of your barcodes to be properly read.
Quiet zone infractions
The quiet zone represents the area surrounding the barcode that should remain free of design, which allows the scanner to assess the barcode's physical boundaries, so that it can scan it entirely. For all 1D barcodes, the quiet zone must be 10 times or greater the width relative to the thinnest marking on both the left and right ends of the barcode. For 2D barcodes, it's suggested that this zone should measure at least 10% the size of the smallest value of either the width or height of the symbol. Unfortunately, the printout can often poke into the quiet zone, resulting in a failed barcode scan.
Solution: The simplest thing to do is to adjust your printer settings so that all quiet zone requirements are met before printing barcodes. Quiet zones are not restricted for space, so you can easily increase them significantly more than the minimum space needed, guaranteeing that quiet zone infractions won't ruin your ability to scan the barcodes. If printouts are often bleeding into the quiet zone, make sure your printouts are high-quality—ideally usually a thermal-transfer printer—so they won't smudge.
Inconsistent printout
Inconsistent prinout can be caused by a few things, including low ink and toner levels when using inkjet or laser printers. If ink or toner levels become too low, the intensity of the printout may vary, with many printers even halting you from printing altogether, even with 40% of the cartridge remaining. Other possibilities for inconsistent printout include ink not adhering sufficiently to the labels as well as printer jams or air bubbles forming inside the cartridge.
Solution: Here, employing a thermal-transfer printer solves most of the problem. These types of printers use ribbons composed of wax, resin, or a combination of the two, consistently providing uniform printouts. It's also crucial to keep a close eye on your printer's settings and to perform basic maintenance when needed. Always make sure to check that the distance between the printhead and your labels is correct and that there's nothing wrong with the nozzles or the printhead. When using a laser printer and ink isn't sticking properly to your labels, you can swap the "Media/Paper Type" in printer settings to "Label" and switch "Thicker Paper" to "Plain Paper."
Scanner not programmed accordingly
If you limit the number of acceptable digits in the data field when you program your scanner, barcodes may fail to scan.
Solution: Always make sure the scanner requirements align with the barcode type you're printing! Some barcodes encode 13 digits, not 12, including the Code 39 and Interleaved Two-of-Five (ITF) codes symbologies. These sometimes need to be toggle with so that your scanner can read them.
Other Considerations
Some other keys to ensuring your barcodes are scanned properly include verifying barcode density and using proper software to print them. Encoding more data than the barcode can handle can make the narrow white spaces between bars too narrow, resulting in a failed scan. Employing specialized barcode software, such as BarTender, can solve this problem, and allows you to design superior-quality custom barcodes at the same time.
Whether you work in the construction, oil and gas, electronics industry, it's crucial that barcodes are scanned on a consistent basis. Unreadable barcodes are likely to ruin your workflow, especially for the industries like the automotive and aerospace sectors, which abide by ISO and other manufacturing standards and regulations to run their manufacturing plants. That's why it's important to not only use high-quality barcodes, but to also verify that they conform to industry standards. Barcode verification involves measuring the quality of your barcodes using grades for various parameters, ensuring they meet all standards prior to use in your company. Verifying your barcodes guarantees that scanning will never fail and saves you time and money in the long run since you never have to stop production because of barcode failure.