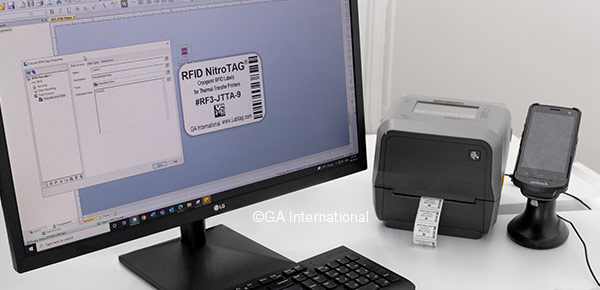 For companies who depend on speed and accuracy to scan large inventories, customized RFID represents a drastic improvement over most conventional labeling methods. Originally conceived during World War II, RFID technology has been used in a variety of industries, from anti-theft detection and scannable room keys to the tracking of nuclear material by the US government.
Specialized RFID labels for every industry
RFID labels provide many advantages: the ability to track samples simultaneously, from a distance, without the need for a direct line-of-sight. They accomplish this by using specialized passive RFID inlays consisting of an integrated circuit (chip) and antenna embedded in the label that emits a radio signal in response to the reader that then processes all of the sample's relevant information. In doing so, these labels save time and increase tracking accuracy, particularly for large inventories of stock and parts, especially for industries like aerospace, where quickly moving large parts around is not an option.
Barcodes, the previous gold standard, are relatively adaptable; one of the main advantages they used to have over RFID is that they could be printed on any type of label. At IndustriTAG, we previously specialized in providing only deep-freeze RFID labels, used mainly for low-temperature freezers (as low as -80°C) in healthcare industries as well as academic and commercial laboratories. Fortunately, with IndustriTAG's newly acquired technology, inlays can now be inserted into almost any label in its inventory, making it more accessible than ever for a variety of sectors, from aerospace and engineering to agriculture, oil and gas, the automotive industry, and even retail stores (e.g. grocery, hardware, and clothing stores). Moreover, this technology allows IndustriTAG to produce small scale batches of RFID labels, perfect for evaluation, without exorbitant minimum order quantities that are normally associated with production runs.
Nowadays RFID inlays are so thin, they are barely perceptible underneath the label; therefore, inserting an RFID inlay into the label doesn't preclude one from printing (or writing) on its face stock. This means that the samples can be encoded by two types of data, RFID and barcodes, giving optimal flexibility to the user when deciding how and when to scan items for easy and accurate traceability. Using RFID and human-readable text along with barcodes adds an extra layer of protection against handling errors, thereby minimizing potential labeling mistakes. These inlays can be inserted into most types of labels, including those made from chemical-, weather-, or heat-resistant materials. These specialized labels are necessary for many sectors, from oil and gas, which requires oil- and solvent-resistant labels, to construction, where workers often need labels that resist harsh weather conditions.
Several products of note in the pipeline include:

• Low Temperature RFID: One of our most widely used labels, they fully withstand extreme cold conditions (even down to -196°C in liquid nitrogen) and are suitable for cold climate conditions, freezer, and refrigerated storage and transport. They come in a variety of different sizes and can even stick to wet surfaces.
• Wrap-Around RFID: These labels are necessary when items stored in extreme cold conditions also require resistance to long-term exposure to harsh chemicals. They self-laminate when wrapped around and over the circumference of cylindrical objects such as hoses and tubing, providing the printout with an extra layer of protection against harsh solvents as well as abrasion.
• Chemical-Resistant RFID: These labels are highly recommended for applications that require harsh solvents. They withstand long-term immersion in a variety of chemicals, including (but not limited to) xylene, toluene, acetone, alcohols, gasoline, oils, degreasers, thinners, and other industrial scale organic solvents. In doing so, they preserve the label integrity, printout quality, and RFID readability.
• Heat-Resistant RFID: These RFID labels are ideal for use in high temperature environments such as inside industrial autoclaves and dry heat ovens. They are also perfect for environments where the label is exposed to continuous high-heat operation such as engine housings and other hot non-metallic surfaces.
Note that the size, material, and configuration of the labels can always be customized. This is because, at IndustriTAG, we have invested in state-of-the-art technology and equipment that allows us to provide RFID solutions not available anywhere else.
Why select customized RFID labels
RFID labels afford several features, such as:
• The ability to scan multiple tags simultaneously from a distance, without a direct line-of-sight required
• Higher data storage capacity (up to 32 hexadecimal characters)
• Higher level of security (data can be locked and password protected)
• Rewritable (up to 100,000 times if the permalock feature is not active)
With customized RFID solutions, there is also no need to choose between RFID or barcodes; you can get the best of both worlds. Barcode labels with RFID inlays retain the two best advantages of barcodes: their adaptability, especially when using them with automated systems, and the grading standards that exist to ensure the barcodes are read accurately and consistently. Printing with barcodes and RFID adds another layer of security and makes it possible to identify the sample accurately should one identification method fail to scan correctly.
Additionally, using both types of data encryption does not necessarily require two printers; the Zebra ZD621R thermal-transfer printer can encode RFID chips and print 1D or 2D barcodes. Similarly, customized RFID codes and barcodes can be generated using only one software, like BarTender Pro or ZebraDesigner 3 Pro.
Choosing the best solution for your business
Ultimately, the choice to utilize customized RFID depends on the needs of your workflow. Implementing an effective system requires several considerations, including software integration and other inventory management systems as well as the utilization of specialized scanners (we recommend the Unitech Handheld UHF RFID Reader for most applications). Setting up a dedicated inventory management system with RFID technology might also require specialized tracking software that lets you get the most out of your labels. As such, a manufacturer that can customize the process is now essential when designing an RFID-based solution. They can help not only select the most appropriate type of label for the application (e.g. weather-resistant labels for bricks and wood versus autoclave labels for high-heat procedures), but they can help outfit the solution to your company's specific application, including coupling your custom label with RFID tracking software and the right RFID reader.
At IndustriTAG, there is even the flexibility for short production runs, so small batches can be ordered as needed. Finally, and perhaps most importantly, a label manufacturer that specializes in customized orders can provide you with samples to test the solution beforehand, so you know what you're getting suits your needs perfectly.