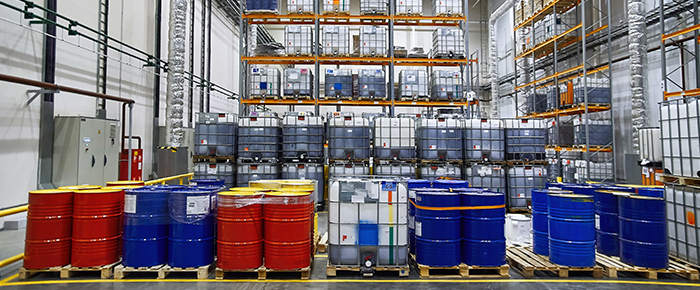 When you ship your valuable goods, getting your product where it needs to go without delay or interruption cannot be overlooked. Often, labels are an afterthought in the shipping process. However, misidentification can compromise logistics and operations, resulting in a costly problem. Therefore, it is imperative that identification labels remain affixed to your bulk containers throughout their journey, be it by land, sea, or air. Labels that withstand the rough-and-tumble nature of bulk container transport will limit worry while saving you time and money.

When selecting labels for your bulk containers, it is crucial to consider the material and type of container you are labeling and the environmental conditions it will be exposed to. The appropriate label will be one that will have a suitable adhesive and facestock so that it won't detach, smudge, fade, or erode. From seawater to freezing rain, bumpy rides on bad roads, and turbulence in the skies, environmental factors are real. Label failure is the last thing you want to worry about. At every checkpoint, you need your labels to remain readable to the human eye and barcode scanners.
The Danger of Label Failure
Suppose your shipment is rejected or deemed unsafe because your labels are unacceptable and did not perform adequately. In that case, your product might sit at a checkpoint and delay reception. While in limbo, depending on what you are shipping, you risk product damage and even total loss, requiring an entirely new shipment. All this for poor label quality? Don't welcome that kind of risk regardless of what you're shipping and where.
Helping You Identify Your Metal, Plastic, and Fiber Containers
Bulk container options used to be limited. Now, companies get to choose from various shapes and materials to ship their goods, and each type requires a specific label. For example, stainless, cold rolled, or carbon steel is used to transport flammable chemicals and hazardous substances due to steel's high corrosion resistance. When transporting such materials, these metal containers may face extreme freezing temperatures. Our thermal-transfer labels for metal surfaces are ideal for identifying containers that will experience freezing temperatures and sub-zero conditions. In addition, these innovative labels adhere firmly to stainless steel to ensure labels remain attached, even when exposed to harsh environments.
Plastic drums are a popular choice for companies because they can withstand extreme weather conditions, water, and corrosive compounds. Blue barrels, for instance, are plastic drums that transport acidic and caustic liquids and powders. Because of their flexibility, plastic containers encounter many different environments. IndustriTAG manufactures a range of solvent and chemical-resistant labels to serve the plastics industry that resists abrasion and can endure heavy use without peeling, smudging, or fading.
Containers made of fiber are a low-cost alternative to more expensive steel and plastic drums and barrels and offer the added benefit of being recyclable in the same method as other cardboard products. In addition, fiber containers are recyclable. They use a removable solvent-resistant label that helps to repurpose the fiber drum, as removable adhesives ensure label removal without leaving adhesive residue behind.
Not All Bulk Containers are Made the Same
Here are the most common bulk container types for the global transport of hazardous and non-hazardous materials:
Intermediate Bulk Containers
Intermediate bulk containers (IBCs) are shipping vessels with a high liquid storage capacity, typically up to 1000 liters. IBC materials are traditionally plastic, metal, or a composite of both. Some IBCs are made from fiberboard as well. IBCs are popular for logistics because of their usability and recyclable nature and can store various hazardous chemicals, liquids, and solvents. Each composite IBC, according to the DOT Regulations and UN Model Recommendations, must bear identification that is durable, legible, and easily visible.
Jerry Cans
These containers help transport liquids or chemicals in smaller quantities. They are a convenient choice for shippers because they offer safe transportation, are lightweight, and cost-effective compared to other transport materials. Jerry cans are made from either steel or plastic. According to the US Code of Federal Regulations, jerry cans used as portable fuel containers must affix a legible label identifying each portable fuel container. The label must be attached such that it is not easily removable.
ISO or Intermodal Containers
ISO containers store and transfer bulk liquids, as well as hazardous and non-hazardous chemicals. They are made from stainless steel, making them a sustainable and safe transport option. ISO containers carry hazardous liquids such as Flammables (UN Class 3), Corrosives (UN Class 8), Toxics (UN Class 6), and Oxidizers (UN Class 5). Labels designed for metal surfaces are recommended for these containers, as they will provide the best adhesion.
Flexitank Containers
For more oversized bulk shipping, flexitank containers transport non-reactive chemicals and industrial oils. They are generally made from polyethylene plastic, making them chemical-resistant, and are considered a less expensive alternative to ISO tanks. For flexitank containers, it is recommended that all labels must be seawater-resistant and robust enough to remain readable after normal shipping conditions.
Industrial Drums
Industrial drums are transport containers made from materials like metal, plastic, or fiber. They require durable labels that withstand seawater, solvents like petrochemicals, and abrasion. A 55-gallon drum (or 200 liters) is the most widespread size, as this is the precise standard of measurement used for international trade. Drums remain a constant choice for shipping because of their sustainability and can be reused or reconditioned.

Whichever materials you use to transport your chemicals, you can always rely on IndustriTAG to have the correct label to match your container and the elements it will encounter. We use innovative technology to provide the best design, printing options, and customization for every purpose. Having the right labeling team is crucial for your shipping plans, and our experts are ready to assist you. Please visit www.industritag.com to learn more.