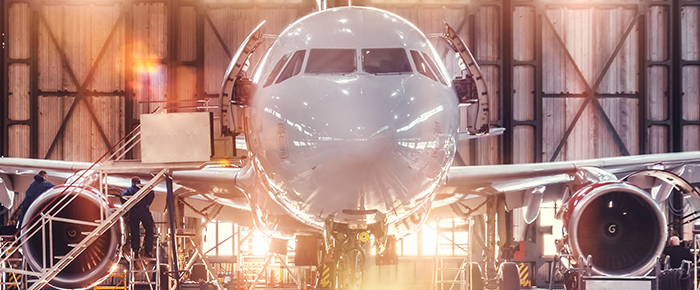 Passenger airplanes, military jets, and spaceships cut through the atmosphere at high-speed, demanding their parts and the labels that identify them to withstand extreme conditions. Aerospace manufacturers and technicians rely on innovative identification solutions to manage complex infrastructure within each aerospace vehicle. Consider this: a commercial aircraft carries 500 km of wiring. That's approximately the distance from New York to Washington D.C. of wires in just one plane. Inventory and data tracking would be nearly impossible without labels and barcodes. Choosing durable and reliable aerospace labels will mitigate financial loss, help meet regulatory requirements, and ultimately assist in keeping passengers and planes safe.
Identification of Aerospace Wires
Wire identification is a priority, as stated by the U.S. Department of Transportation, Federal Aviation Administration,
"An important aspect of ensuring safe operation of airplanes is making sure that EWIS (electrical wiring interconnecting system) components are properly identified. This is necessary so that modification designers, maintenance personnel, and inspectors can easily determine the function of the associated system… Clear labeling of EWIS components and easy-to-understand identification aids allow installers, inspectors, and maintainers to readily ascertain that correct system components are installed as designed, and allow modifiers to add systems with due regard to the existing protection and separation requirements."
A few of the best practices for aviation labeling as outlined by EWIS (Job Aid v2.0 pg.123) are:
• Any wire less than 3" does not need to be identified
• Label wires between 3" and 7" at the center
• Labels should be printed left to right or top to bottom
• The label should withstand all environmental conditions it may encounter during operation and maintenance
Clear labeling and easy-to-understand identification are essential. Printed data and barcodes that smudge and render the aircraft label unreadable waste time and money. It is far better to purchase a label that lasts the lifetime of the part or surfaces it's adhered to rather than regularly replacing it from an investment standpoint. IndustriTAG ensures aircraft labels will meet regulatory requirements, remain attached, and maintain readability throughout their lifespan.
Extreme Temperature-Resistant Labels
Temperature-resistant aircraft labels are perfect for identifying various aircraft tubing, including fuel, oil, coolant, oxygen, instrument, and hydraulic lines. Fluid lines are used throughout an aircraft and can run hot or cold. To help keep technicians safe, aircraft labels should identify the line's contents, function, and primary hazard. Labels should be applied at both ends of tubes, and at least once in each compartment they run through.
Our ultra-low temperature labels withstand high-altitude temperatures and beyond (down to -196°C), while our heat-resistant labels can withstand temperatures as high as +150°C. They are made with strong adhesive properties and perfect for labeling metal, plastic, and glass surfaces. Labels are printable with most standard thermal-transfer printer brands and available in self-laminating wrap-around formats for added protection.

Aerospace Labels for Circuit Boards & Components
A wide range of circuit boards are used in the aerospace industry, depending on the application it is serving. Newer boards are also experiencing the miniaturization of components, making 2D barcode labels ideal. IndustriTAG aerospace labels for circuit boards comply with North American and European regulations, including ROHS and UL standards. Our material is durable, withstanding soldering environments, chemical exposure, and abrasion. Printed data will remain easy-to-understand, and barcodes will continue to scan without fail.
Tamper-Evident Labels
Tamper-evident labels help prevent product tempering, asset theft, or reuse. As soon as someone tries to remove the label, it tears apart. Aircraft technicians will use them as security labels, as they provide a secure seal that is noticeable when removed. They are primarily used to seal aircraft hatches or doors, indicating maintenance is complete, and the aircraft is safe for use. Tamper-evident labels can also be used to seal catering trolleys, duty-free bags, life jackets, overhead lockers, and first aid kits.
Printers and Custom Labeling Solutions
If your warehouse, hangar, or facility requires custom labels regularly, a label printing station is necessary. This will allow you to print a variety of durable labels on-demand. We recommend thermal-transfer printers, as they offer the most label options, as well as the highest level of resistance to extreme temperatures, chemicals, and overall wear-and-tear. Custom labels can also be provided to meet your exact needs, either pre-printed with logos, graphics, barcodes, or blank so you can print them yourself, as needed.
IndustriTAG offers printers, ribbons, barcoding software, scanners, and much more so you can accurately and precisely identify aerospace circuit boards, wires, and any other equipment. We also offer ready-made printing kits, detailed printing services, and a team of scientific experts to customize your aircraft labels.
IndustriTAG Guarantees Aerospace Label and Barcode Quality
When identifying aircraft parts with barcodes, they must remain scannable throughout their lifespan. The best way to ensure your barcodes are scannable is to verify their grade right from the start. Your barcode should meet industry standards and ideally will offer enough redundancy to remain scannable even in the face of slight damage. High-quality 2D QR codes are likely your best option in this regard.
IndustriTAG provides high-quality 1D and 2D barcodes, guaranteeing your barcodes accurate and consistent scanning. Our barcodes conform to the most stringent international industry manufacturing standards and certifications, including ISO/IEC 15415, ISO/IEC 15416, 15416-1 and 2, ISO/IEC TR 29158 (AIM DPM-2006), and GS1. The grading system and verification system can generate, verify, and provide linear barcodes, QR codes, as well as barcode grading reports of individual or specific sequences of barcodes.
To learn more about how IndustriTAG aerospace labels and identification solutions can help you, please speak with our team today! Our experienced support team is also available to advise on how to improve barcode quality and readability.