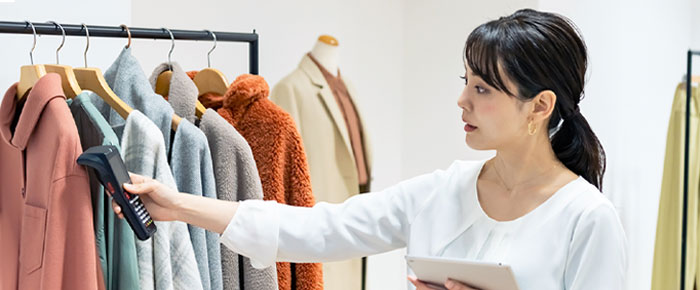 We've covered the benefits of radio-frequency identification (RFID) technology throughout our other blogs, highlighting their utility in various sectors, from the automotive sector to oil and gas and construction. Though logistics and retail represent a major worldwide industry, RFID has had less influence on this sector than anticipated, as buying RFID tags used to be relatively expensive. However, with developments like the ability to generate RFID inlays in almost any label type, RFID technology is set to make a splash in the clothing industry, giving high-profile brands and their customers new luxuries they couldn't afford before.
Eliminate counterfeits
Counterfeiting is one of the most striking reasons for lost revenue and brand deterioration. Billions of goods are sold on the "grey market" globally, resulting in losses to revenue and jobs across the entire industry. Counterfeiting also damages the brand when clothes that are not made with the same quality as those from the original brand fall apart prematurely, making it appear like the brand is at fault. Often these clothes appear nearly identical to the actual brand but without quality manufacturing.
When it comes to eliminating counterfeit products, clever authentication methods are key. To this end, RFID provides the most cost-effective solution. Already in use by clothing industry brands like Moncler and Salvatore Ferragamo, embedding tiny chips inside clothing and apparel is a direct means of authenticating each item immediately after purchase, whether it's from the store or second-hand resale. Moncler's system isn't just accessible to those working at the store; anyone can scan the RFID chip using their phone or through their code.moncler.com website.
Make shopping a better experience
Brands like Burberry, Rebecca Minkoff, and Ralph Lauren have begun using RFID in their clothing lines to provide shoppers with a smooth and speedy self-checkout option, where the chip can be scanned and clothes paid for instantly using a smartphone or tablet. Furthermore, some brands even provide customers with additional information when scanning their chips in stores, like how their clothing can be worn and tidbits about their manufacturing. RFID can track items as they are taken off shelves and automatically complete the transaction once the customer exits the store. This can shorten check-out queues and speed up the check-out process as a whole. RFID software can even be used to track an individual customer's purchase order history, allowing companies to better recommend items to them in the future.
RFID has also been used in fitting rooms to give shoppers information about in-store stock. For instance, imagine trying on a shirt only to find out the size doesn't fit; scanning the RFID tag would allow you to instantly identify whether different sizes or colors are available.
Inventory and sample control
Like any business, RFID is an ideal solution to manage inventory in the clothing industry. With a mere click of a button, an entire room's worth of stock can be identified, with all pertinent information, including the designer, model, and year, instantly available. The best part of RFID is how well it tracks inventory, as it can be used to monitor availability on shelves, at the back of the store, and in warehouses, as well as the traffic between each area. This allows staff to better assess and plan over long periods, with maximum visibility and less manpower dedicated to manually scanning each individual tag. Overall, more time is saved performing inventory management, and fewer resources are used as managers can better avoid overspending on stock.
Furthermore, by tacking retail stock with RFID tags, frequently moved or misplaced items can be more easily found and returned to their proper location. This can also help deter and reduce theft while improving product visibility.