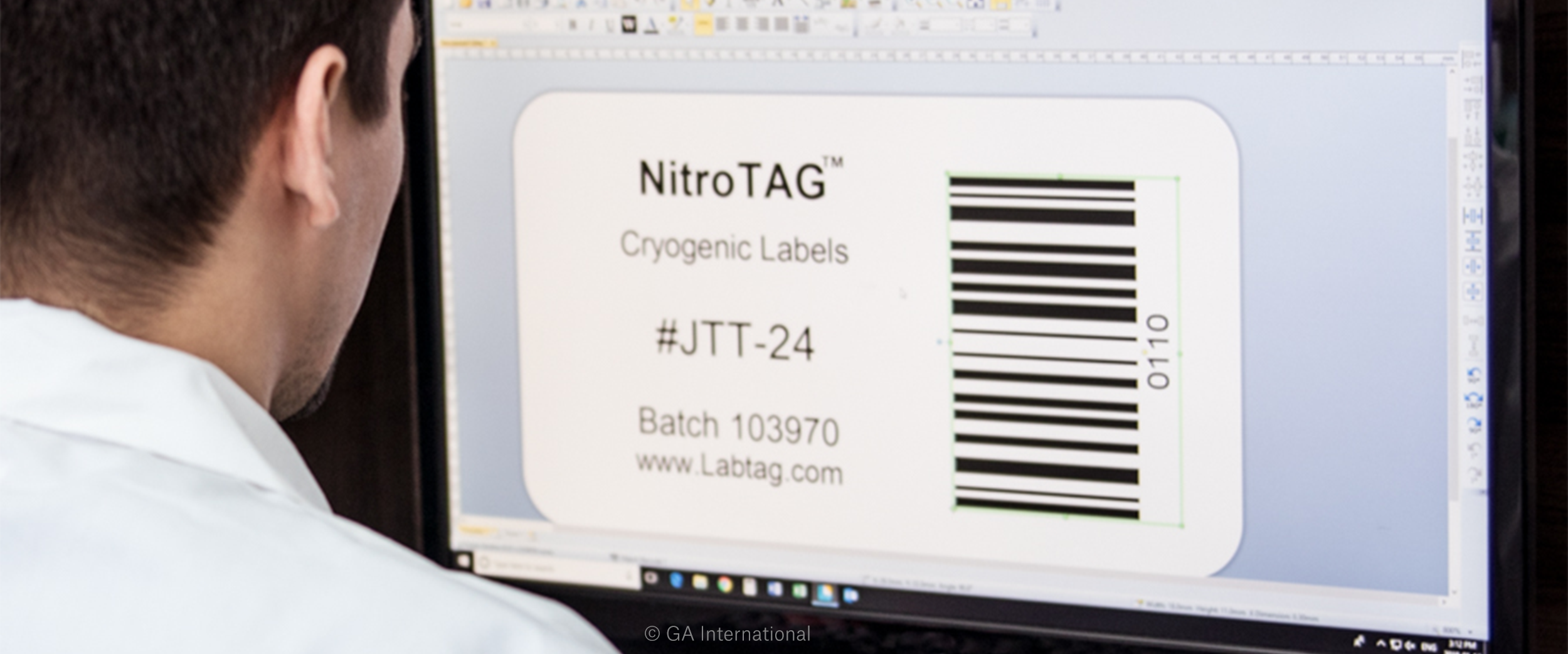 Once you've chosen a system to print your barcodes, you'll need to select a printing software too. There's a variety of barcode label printing software, such as specialized programs like BarTender™ and Label Matrix™, as well as basic software that's included with your printer. Below, we'll quickly review the benefits of each one.
Specialized software
BarTender and Label Matrix are two of the most versatile programs you can find to print labels. Compatible with inkjet, laser, direct thermal, and thermal-transfer printers, these programs can be used to integrate sample databases and other information from excel sheets, google docs, and other databases into templates, encrypt documents, and encode radio-frequency identification (RFID) labels. Some editions of this software also offer a bit more flexibility by providing a way to produce various labels using only a single design without saving each file independently.
Specialized software shines when printing complex images, as it provides options for both 1D and 2D barcodes, for configuring barcode density, and for serialized information, logos, and other designs, giving you a relatively high amount of flexibility and customization. Serialized barcodes are also a strong point for these programs, as they let you choose prefixes, suffixes, and intervals, in addition to importing information from external databases and producing barcodes based on custom data. Most importantly, it lets you import data from databases and generates barcodes based on custom data.
Management system software
Your management system is an essential factor when choosing the right printing software. There are many types of management systems; however, not all have a built-in label printing program. If it does come with software, many of these programs provide similar benefits to BarTender, though you'll need to ensure it can work with your specific printer model. If you need to buy labeling software in addition to your management system, you'll still want to make sure that the program you choose is compatible with the system you're running. Regardless, installing BarTender or LabelMatrix may still provide additional functionality other software doesn't have.
The most common type of software is inventory management software. This helps track inventory levels and oversee basic order management. This can also be cloud-based, which is a great way of tracking your inventory via a Web browser on virtually any mobile or desktop device. This will likely be a decision you make separately from what label printing software you need.
Pre-loaded software
In addition, many printers are bundled with proprietary software, including Zebra's ZebraDesigner, cab's cablabel S3 Lite, and DYMO's LabelWriter software. These offer basic functions and only give simple templates to print from. However, ZebraDesigner and LabelWriter also let you design 1D and 2D barcodes with limited customization options.
Microsoft Word is another option that can be used to print labels. It's easily accessible, though its templates only support sheet labels for laser or inkjet printers. As a plus, Word lets you import data from Excel directly into your template. Using third-party add-ins, Word can also design simple barcodes.
The choice of label printing software comes down to what your company needs, whether you're printing a large volume of detailed barcode labels for an automotive manufacturing plant or merely employing them for general office use. Before purchasing software, it's crucial to know what you're going to print and how and assess the program's compatibility with your printer and all other software and hardware.