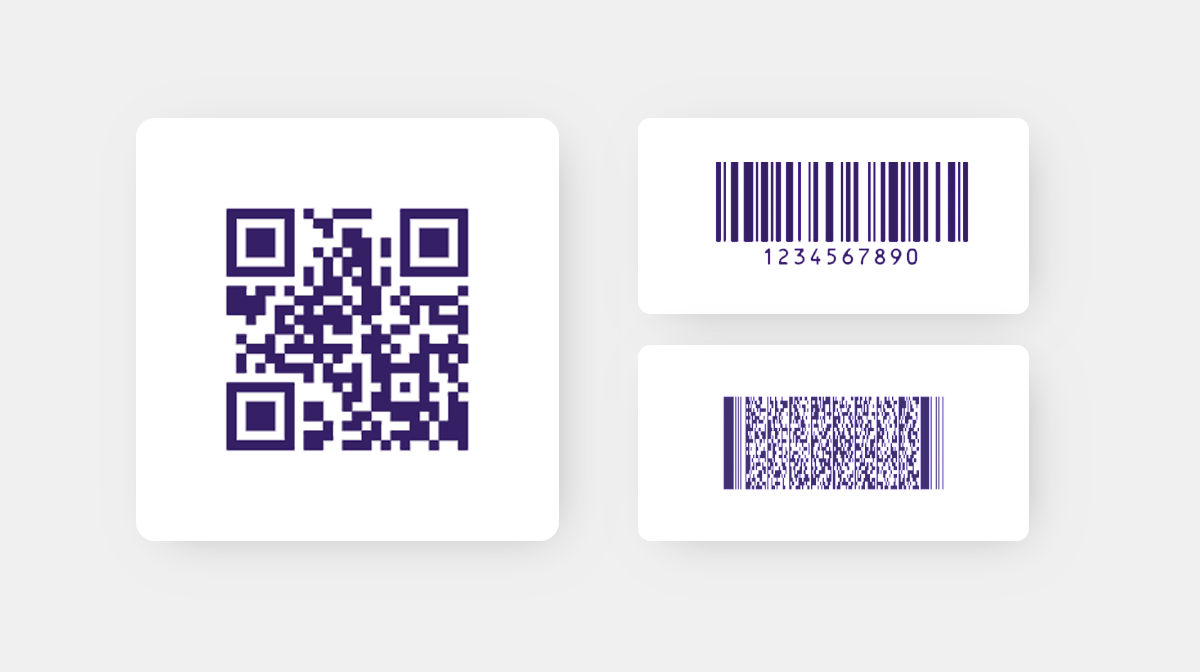 Barcodes are essential to properly track your company's inventory and supply chain manufacturing, trace shipping orders, and much more. As such, they're found everywhere, from automotive and aerospace manufacturers to oil and gas plants, retail stores, and construction sites. However, there are many different types of barcodes, each with its own set of characteristics and uses. Here, we'll review all the options, making it easier for you to choose the right type of barcode for your business.
1D Barcodes
1D barcodes—with information stored in the code and shown in horizontal bars and spaces from left to right—are the most common type of barcode in industry. Several types of 1D barcodes are available to use, allowing you to encode between 20 and 25 characters. Note that a barcode scanner is necessary to read these barcodes.
UPC
The universal product code (UPC-A) format, commonly found in the retail industry, was the first widely used barcode format. UPC-A confers a 12-digit code that includes a UPC company prefix as well as a number for each individual item. The final digit of the code used to validate each barcode is a check digit based on the previous 11 numbers. So, every item labeled with the UPC barcode has a unique code, with not even two individual products sharing the same one.
Code 128
Code 128 is a high-density linear barcode resembling the UPC. It can encode alphanumeric data and standard ASCII symbols. These barcodes can encode a long string of data in a small space, making them ideal for asset management, inventory management, shipping, and supply chain distribution. They can also be used to encode proprietary data and to serialize products outside of retail.
GS1 databar
The GS1 databar has many variations, but they're all based on the UPC barcode. It can store more data than the UPC barcode and is more practical for situations that require a shorter, more comprehensive symbol. These barcodes are typically used in coupons and in healthcare, especially when space is limited.
PDF417
PDF417 barcodes integrate features from 2D barcodes but are still read using a 1D scanner. They can encode almost as much data as 2D barcodes, but they also require a lot of space. PDF417 codes have been adopted by many government and commercial organizations due to their ability to encode large amounts of information.
2D Barcodes
Unlike 1D barcodes, 2D barcodes can organize information both vertically and horizontally, allowing them to store more data (up to 2000 characters) while using a minimal amount of space. Scanning 2D barcodes requires a 2D imager, which can be read the code in any orientation, so you never have to align the bars of the barcode with the laser.
QR code
QR code is a 2D matrix barcode that supports binary code, numeric and alphanumeric text, and more. It has flexible size requirements, making it a versatile barcode that can manage assets in manufacturing plants and warehouses. These codes can also be scanned with mobile phones and other electronic devices that have an appropriate app installed.
Data Matrix
Data Matrix looks like the QR code but is further tailored for small items because of their ability to scale down in size. They're typically used to identify electronics.
Aztec Code
Aztec 2D barcodes consist of a bull's eye—which looks sort of like an Aztec pyramid—with no quiet zone, making it easier to scale them down to small sizes. It's also relatively easy to decode these barcodes, even if the resolution is poor, making them ideal for transportation and other industries that require tickets.
3D Barcodes
3D barcodes work with an added dimension to store more data and/or to make it more resistant to harsh environments.
Color Barcodes
Barcodes like the PM code can store information using color, encoding up to 1.8 Mb of data. Because they can hold so much data, a PM barcode can be used for large images or even short videos. These barcodes can also be scanned using mobile phones or tablets.
Embossed
Barcodes don't always need to be printed on labels. They can be engraved or printed on the item itself, yielding a thicker, denser printout. These barcodes often require a direct part mark scanner to read them. Because the barcode is applied directly onto the item, it can better withstand extreme temperatures, harsh chemicals, and changing pressure conditions that would otherwise ruin traditional barcodes. These barcodes are mainly employed in construction.
Printing Barcodes
Once you've settled on an ideal barcode, you'll need to choose an appropriate printing method and barcode printing software as well. For items that encounter harsh environments, thermal-transfer printers are more suitable as their printouts resist extreme heat and cold, chemical exposure, and abrasion better than other types of printers. Laser and inkjet printers are better when color is required, though the high cost for ink and toner and their tendency to jam make them less efficient than thermal-transfer printers. Direct thermal printers are small and great for general-purpose office use, but these labels may turn entirely black if they encounter harsh solvents or extreme heat, making them a poor choice for these conditions. When it comes to software, BarTender makes it possible to design, format, and align barcodes, making it easy to print them on your labels.