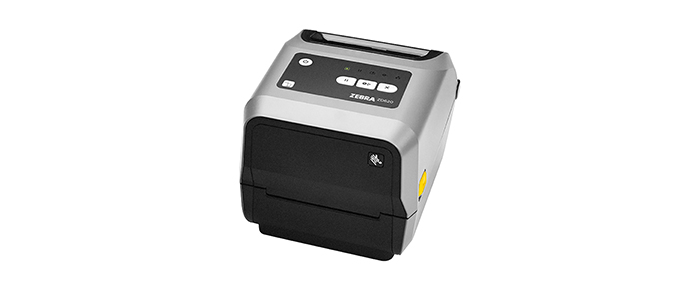 Thermal printers are often employed in a variety of industries, from automotive and aerospace manufacturing plants to electrical, oil and gas, retail, and construction sectors. So, how do thermal printers, adept at producing sharp, high-quality barcodes and serialized data, work?
The Difference Between Digital & Thermal
Printers
Digital printers, a family of printers that includes inkjet and laser models, uses ink cartridges to print labels. Inkjet printers shoot ink out of a nozzle, while laser printers rely on electrostatic interactions to first form an impression, then apply and fuse the toner to the label. Thermal printers, however, are exclusively reliant on heat to produce printouts. Thermal printers can be grouped into two categories: thermal-transfer and direct thermal.
Thermal-Transfer
Thermal-transfer printers use a heated print head that creates an image by pressing down on a ribbon located next to the face stock of the label. These ribbons are composed of wax, resin, or a mix of the two. Resin ribbons are better at withstanding exposure to chemicals as well as extreme heat and cold; they also yield a sharp printout that's smudge-proof and won't fade over time. Wax and wax-resin ribbons are better for general office use as they don't resist harsh conditions nearly as well as resin ribbons. Conversely, they are also typically less expensive.
Thermal-transfer ribbons consist of a backing coated with either wax, resin, or wax-resin mix. During printing, the ribbon is fastened by the "ribbon unwind" and dragged under the print head to the "ribbon take-up spindle." Labels are then inserted under the ribbon through a "platen roller" from the "label unwind." The print head's heating pins are then heated based on the design assigned from your labeling software. The pins then distribute heat to the ribbon, which transfers ribbon ink to the face stock of the label. The used section of ribbon then wraps around the ribbon take-up spindle until it reaches its end. In many models, the ribbon sensor alerts the printer when the ribbon has been completely used, reducing the likelihood that the print head will become damaged. In some printer models, this sensor is moveable, providing added flexibility. Finally, in the ribbon unwind, the end core sensor can detect when the ribbon is no longer unwinding by sensing the separation of the last bit of ribbon from its core. Thermal-transfer printers should also include an empty take-up core that collects the used ribbon, ensuring the printer continues to function efficiently.
Direct-Thermal
Rather than employing ribbons, labels used for direct thermal printers are covered in a dye that darkens when it contacts the heated print head. The "thermal head" distributes heat directly onto the face stock of the label via a "spring," which presses down on the thermal head as the platen roller moves the label through.
The Benefits of Thermal Printers
Thermal printers have several advantages over digital models, particularly for printing barcodes. While digital printers require sheets of labels that can often jam the printer as well as expensive ink or toner, which yield a lot of waste—sometimes, printing can be blocked block because the ink cartridge is only 40% full—thermal printers work with rolls of labels, so you only use what you need, without the possibility of paper jams. Each type of thermal printer has its advantages as well:
Thermal-transfer:
Printouts withstand harsh environments, including extreme weather and temperature, chemical exposure, and abrasion
Ink lasts longer compared with all other printing methods
Provides the most comprehensive choice in material for facestock
Direct thermal:
Suitable for general office use
Relatively cheap, small, and portable
Incompatible with high heat or chemical exposure, as the whole label will blacken, ruining the printout