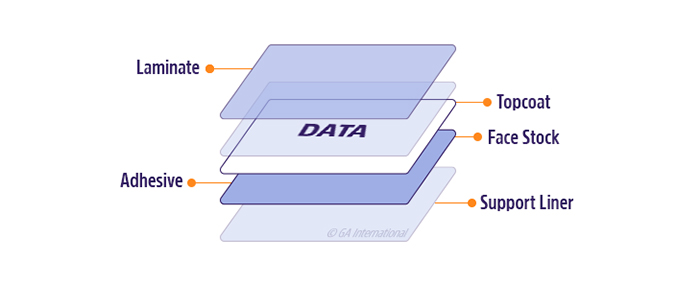 Choosing the right kind of labels for your business is critical to ensuring your company runs smoothly and efficiently, whether you work in retail, construction, oil and gas, automotive, or aerospace. Here, we'll show you some of the things you should consider before choosing the best identification solution for tracking and tracing your items.   
Components of a label
To successfully select the proper labels, you must first know the components of a label. There are 5 components:
Adhesive
The adhesive corresponds to the "glue" that makes the label stick to your desired surface. There are many different formulations of adhesives available, each with its own ability to stick to varying kinds of surfaces. Certain adhesives can also resist extremely high and/or low temperatures as well as exposure to harsh chemicals and solvents.
Face Stock
The surface where information is printed on the labels is known as the face stock. It is usually made of paper for general-use office labels, but many are composed of thermoplastic film, which makes the label waterproof and tearproof in addition to adding stability.
Topcoat
The topcoat can be used as a primer for the face stock, facilitating the deposition of ink. It can also add an extra layer of resistance against extreme temperatures and harsh chemicals, though not always needed.
Laminate
A layer of transparent film that protects the label, enhancing the durability and lifespan of your printouts by sealing and protecting the face stock.
Support Liner
The liner, a non-stick base that the label rests on before use, merely serves to protect the adhesive.

Things to Consider Before Choosing a Label
Specific extreme conditions require specific labels to be made. For example, when labeling coolant tanks filled with liquid helium, cryogenic labels are more likely to stick compared to a general-use paper label. To choose the best label for your application, it's important to consider the following:
Printing method
There are four main types of printing methods when it comes to labels: thermal-transfer, direct thermal, laser, and inkjet. Labels and tags are usually designed to be compatible with a specific type of printer. For example, labels that come as sheets cannot be used by thermal-transfer or direct thermal printers. These printers only use rolls of labels, so it is crucial to verify the label compatibility with your preferred printing method.
Each printer has its own set of features. Thermal-transfer printers generally provide optimal resistance against extreme temperatures, chemical exposure, and abrasion. Laser and inkjet printers provide you with the ability to add colorful, eye-catching images and logos to your labels. You should consider whether you would like to print your own labels or have them custom printed by the manufacturer. If you need the manufacturer to print barcodes on your labels, make sure that it has a system to grade and verify them according to ISO and GS1 regulations, if required.  
Labeling surface
The next thing to consider when choosing labels for your business is the surface to which your labels will be affixed. General-purpose labels are ideal for paper and cardboard boxes used for shipping. However, for specialized surfaces found in industrial applications, such as rubber, plastic wires, and metal coatings, you'll most likely require specialized labels designed to securely adhere to them. It's also worth considering the application temperature, as frozen surfaces may require labels with specialized adhesives for this environment.
Label size and shape
You must consider the amount of information, the size of the object that requires identification, and the shape of the label. When looking for a manufacturer to purchase labels, they must be able to provide custom manufacturing services. Custom manufacturing ensures that your labels can and will be produced to your exact specifications, as necessary.
Unique label properties
Labels come with unique properties that are essential in carrying out specific functions. The most common specialized label properties include resistance to extreme hot and/or cold temperatures and chemical exposure. Other features include tamper-evident seals, destructibility, piggyback layouts, and the ability to permanently block out pre-existing information. Another feature that can be incorporated into your labels is Radio-frequency identification (RFID), allowing you to significantly increase trackability and traceability throughout your supply chain.
Choosing the right labels for your business is essential to ensuring that they stay affixed and legible. At GA International, we develop customized labeling solutions for all your requirements. To find your perfect label fit, visit www.industritag.com.