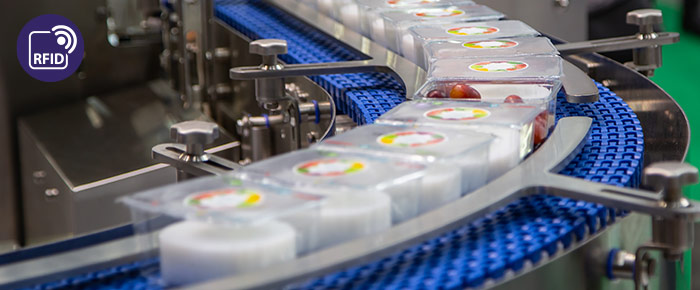 Radio-frequency identification (RFID), invented in the 70s, is still considered a disruptive technology, even today. For a variety of reasons, RFID has yet to take over the manufacturing and distribution landscape fully, especially when it comes to food packaging. Barcodes are still everywhere in groceries stores worldwide, from frozen foods to fruits and non-perishable, canned goods. However, used appropriately, RFID stands to potentially revolutionize how foods are tracked, traced, and sold. Here, we'll review the case for implementing an RFID-based identification system for food packaging, and we'll also review the utility of barcodes in the supply chain.
The case for RFID
The primary benefits of RFID are consistent across every commercial industry:
Scanning from a distance
No direct line of sight required
Simultaneous scanning of multiple tags
Rewritable
Higher data storage capacity
Higher level of security
So what does this mean for food packaging? With the right infrastructure in place, RFID can be a force for tracking and tracing products through the supply chain, particularly for the meat and poultry industry, as it has much higher data capture accuracy and speed than barcodes. This high accuracy can help avoid recalls as every item is monitored from production to distribution, and if a problem does occur, it makes it easier to track where along the chain the issue arose.
For retail stores, RFID offers the ability to monitor inventory and stock much more efficiently, verifying the correct products, quantities, and best before/expiry dates, with minimal labor costs compared with reading multiple barcode labels one at a time. From a management point of view, it can reduce waste because the data is so readily accessible and easily updated. Those who manage a lot of perishable or frozen foods are likely to benefit most from RFID, mainly due to the high product turnover.
Recently, RFID has become a worthier investment for several reasons. The overall price of RFID technology has dropped within the last few years, and even though they're now cheaper, the size of the chip is much smaller as well, making it possible to create RFID inlays in almost any type of label. Even RFID-capable thermal-transfer printers are not much more expensive than basic thermal-transfer printers now. RFID chips are also much more durable than before, which means they can be used in a variety of conditions, including freezing temperatures.
The case for sticking with barcodes
Barcodes are still used throughout the food industry, with good reason. Their low initial cost makes them an attractive choice for almost any business; this includes lower costs for both labels and printers. International grading standards also exist for barcodes, with a verification process to determine whether your barcodes meet the necessary requirements to be consistently and accurately read.
Also, note that while barcodes labels aren't rewritable like RFID, the labels are usually disposed of after a product is purchased. So, a company that purchases labels with RFID inlays will likely never get the opportunity to rewrite them unless some form of re-usable food packaging is employed. However, this factor isn't applicable for those who employ RFID tags* at the supply chain level, especially for items like processing trays and other re-usable equipment, where the tags are likely to be re-used (and re-encoded) as well.
Barcode labels also have the added benefit of working under cryogenic conditions, including immersion in liquid nitrogen. While RFID labels have made great strides in this department over the years, barcodes are still preferred when identifying cryogenically stored products. Thermal-transfer frozen food labels will withstand extreme low-temperature conditions, are microwave-safe, and can also be printed with color logos, ingredients, nutritional information, and more.
*Note that RFID tags and labels with RFID inlays are NOT the same thing.
Labels with RFID inlays are precisely that: a label with an RFID chip. These RFID inlays are incredibly thin and almost indiscernible in the label. The labels can stick to nearly anything, from frozen surfaces to rough and curved surfaces, and can come with a permanent adhesive (meaning the label cannot be re-used) or with a removable adhesive, allowing you to re-stick the label to another item.
RFID tags are special tags that can be mechanically fastened or hooked onto items like trays and carts with an RFID chip inside. These do not stick to any surface and can be re-used as many times as needed.
The final verdict
The choice to implement either RFID or barcode labels comes down to your company's needs. An identification solution has to make sense both financially and functionally within the company's workflow, considering all factors, including printers, scanners, and the labels themselves. RFID can undoubtedly provide a better means of tracking and tracing inventory across the supply chain. Of course, barcodes can be printed on RFID labels, so even if RFID is utilized, barcodes may be implemented as well (with the right printer). When it comes to food packaging for most food products, especially frozen items, it's also necessary to have a reliable label that will adhere at extremely low temperatures. IndustriTAG has the right equipment to outfit almost any label (including freeze-resistant) with RFID inlays, which can be printed on with barcodes to give the best of both worlds. In the end, with a thorough cost-benefit analysis, the right system can be implemented that will increase efficiency and productivity across the board.