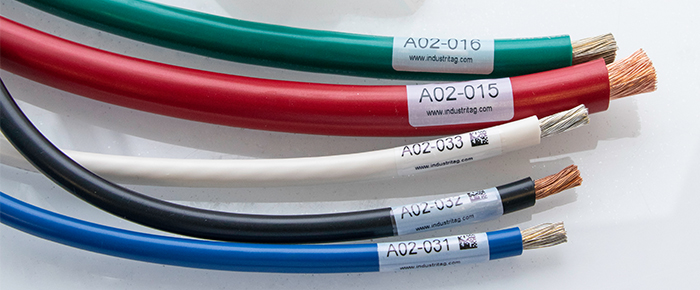 Which label is the right choice for your electrical wire and cable projects? Consider defining your needs before answering this question to save time and avoid costly mistakes. To properly do this, we recommend speaking with a labeling expert whose goal should be to help you choose the optimal label for your needs. Here are some factors you always want to consider when deciding which electrical wire and cable labels are right for you:

Will your electrical wire label or electrical cable label be exposed to any or all of the following: abrasion, chemical exposure, weather conditions?

What type of accessibility challenges are you facing?

Does your label need to be visible from all sides?

Not all labels are created equally. Modern electrical cable identification labels come in a variety of sizes, designs, and materials to meet the specific needs of different projects. Customization is often required. At IndustriTAG, we can meet large manufacturing demands and specialized requests. Companies in technology, industry, automotive, and even NASA rely on our electrical and wire labels! Let's discover which electrical cable identification labels are best suited for the job at hand.

Wrap-Around Labels: Durable and flexible

When scanning 1D or 2D barcodes, the last thing you want is a smudged or scuffed label that is no longer readable. Due to their abrasion-resistant construction, wrap-around labels are ideal for curved wires and cables subject to movement. The addition of a self-laminating feature provides added protection against outside factors like weather and chemicals that could compromise your data. Wrap-around labels made from high-quality raw materials are the recommended choice for durability and stability requirements.

With your convenience in mind, IndustriTAG produces wrap-around electrical wire labels and electrical cable labels with a self-laminating feature in thermal printing and laser/inkjet options. Our thermal, electrical wrap-around labels (ZEBA) are compliant with UL and CSA and comply with ROHS/Regulation 2002/95/EU. The laser/inkjet option (ZLWA) is UL and cUL recognized and complies with RoHS (2 & 3) and REACH.


Flag Labels: Visibility with no adhesive residue

Flag labels are a clean, professional-grade cable labeling solution for your projects. They wrap around your electrical wires and cables while leaving no adhesive residue. The adhesive-free "tail" of the flag label loops around your wire or cable. It is sandwiched between the two printed areas that fold together to hold the label firmly in place and display your data. This design minimizes the risks associated with removing your electrical wire or cable labels.

Flag labels are ideal for coaxial, shielded/unshielded twisted-pair cables, fiber optic, USB, display, and other communication/data cables. They can also be applied to a wide range of cable diameters and are recommended for tight spaces when readability and scanning are required.

At IndustriTAG, our flag labels for electrical cable and electrical wires are engineered with your specific needs in mind. Each flag label is tested to withstand harsh elements and deliver the data tracking you require. Our flag label (ZE-TTOL-2) is compliant with UL and CSA, RoHS 3, REACh, and SVHC regulations.

Foldable Labels: Simple and Straightforward

Foldable labels are durable and easy to read. When a large printing surface is required, foldable labels are highly recommended. The ability to simply grab and read the information you require makes this a straightforward solution for your labeling needs. Similar to wrap-around and flag-style labels, 1D or 2D barcodes can be printed on the label for scanning and added data tracking requirements. Foldable labels can be ordered in a variety of sizes for the different diameters of your electrical cables and wires.
IndustriTAG's foldable electrical identification labels are able to withstand water, oil, chemicals, and extreme weather conditions. We welcome your customization requirements, and we have the design and engineering flexibility to meet your specific needs.

Inspired by you

IndustriTAG's innovation continues to be inspired by your work. We are passionate about what we do and would like to share our labels with you and your team. Order our free sample kit to see and feel our electrical cable labels and electrical wire labels. This way, you can test a particular label and make the best choice possible. We even ship your samples the same day.

For more information about our electrical cable label identification solutions, please visit our site at www.industritag.com